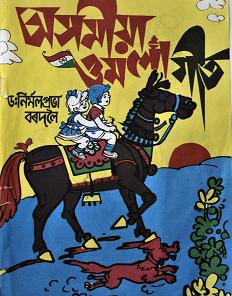 The Book's front cover
Nirmalprabha Bordoloi's "Axomiya Umola Geet" is one of the most popular children's book in Assam. The rhymes of that book has been popular for decades among children. The simple and lovely rhymes are very original in creation and liked by children immediately. Some of the popular rhymes are added below in this page.
Read few Rhymes from "Axomiya Umola Geet"
Click on each page thumbnails to enlarge the page
PAGE 1

PAGE 2

PAGE 3

PAGE 4




PAGE 5

PAGE 6

PAGE 7

PAGE 8

PAGE 9


You can discuss more about Assam and Assamese in this forum.