Vishnu Dol
LOCATION:
In the Heart of Sivasagar Town. It is located very adjacent to Siva Dole and Devi Dol.



HIGHLIGHT:
Temple of Hindu God 'Lord Vishnu' standing tall for last three centuries. The temple can be visited round the year. But the month of 'Bhada' in Hindu calendar is supposed to be special for this temple. Daily prayer and naam-kirton occurs in this whole month.


Just adjacent to Shiva temple, Vishnu Dol is the temple of God 'Vishnu'. Little smaller in size than Shiva Dol, this temple carries an unique architectural value in itself. It is 60 feet in height and 120 feet in diameter. Inside the temple the Vaishnav influnce is clearly visible. Following Vaishnavism, no statue or sculpture of God is put inside the temple. Srimanta Sankardeva's sacred 'Namghosha' and other holy books of Vaishnavism are kept inside the temple.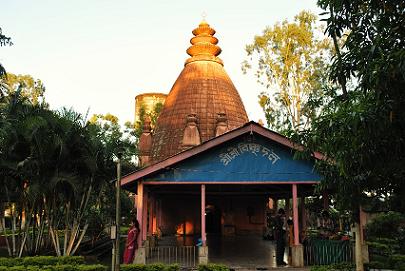 The Vishnu Dole of Sivasagar