Ugratara is considered to be one of the very important Shaktipeeth (Power shrine) situated at the heart of the Guwahati City.






The "Shakti Peethas" (holy places of cosmic power) are places of worship consecrated to the goddess Sati. They are distributed throughout the Indian subcontinent. This goddess Sati is the incarnation of Parvati, the benevolent goddess of harmony, marital felicity and longevity. According to the legends, Sati immolate herself when her own father Daksha performed a yagna but didn't invite her and husband Lord Siva. Lord Siva immerged in grief and anger, started dancing with the remains of Sati's body, destructing the whole universe slowly. The other gods intervened to stop this dance, and the Vishnu 's weapon, or Sudarshana Chakra, cut through the corpse of Sati. The various parts of the body fell at several spots all through the Indian subcontinent and formed sites which are known as Shakti Peethas today. Ugratara temple is believed to be the placew where Sati's navi fell.

There different descriptions od Shakti peetha in different Puranas. Kalika Purana describes seven Shaktipeethas. These seven peethas are mainly concentrated on and around Kamakhya Shakti peeth (Assam). One of these is called "Dikkara Vasini". Dikkara vasini has two forms, Tikshna kantha and Lalitha kantha. Tikshna kantha is black and pot bellied, also called as Ugratara or Ekajata. The Ugratara Dewalaya(temple) is dedicated to this form of Dikkara Vasini.

Around 1730 AD, Ahom King Siva Singha excavated two large tanks on the east of the current temple. Three years later he built a smal but beautiful temple on the banks of these tanks. These tanks are now called Joepukhri (Jurpukhuri), Jur means 'couple' and 'pukhuri' means tank in Assamese.

Unlike other Hindu temples, Ugratara doesn't have any idol or image of the deity.Inside the temple core there is a small pit filled with water whihc is considered as Goddess. The 1897 devastating earth quake damaged this temple too. But later it was repaired. There is also a Siva temple (Sivalaya) behind the main temple.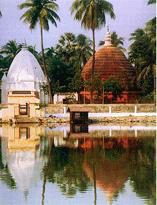 Ugratara, Sivalaya and the Jurpukhuri


The Ugratara Devalaya is situated In the heart of the Guwahati city, in the Uzan Bazar area. It attracts large number of pilgrims every year. The 'Navaratri' is the most celebrated holy festival in this temple every year. Traditionally The temple practices animal sacrifices to please the goddess. Ugratara is believed to the the aroused, or demonic form of Sati. In this form she loves liquor, meat and utter devotion. That is why goats, cocks, ducks and even buffalos sacrificed in the temple. During Durga Puja and Kali Puja the temple campus sees maximum sacrifices.


Satellite Map of Ugratara temple


You can discuss or post any queries this forum.

Find some more pictures of Assam in this Gallery.