Best viewed @ 1024x768 resolution
Kali Prasad Memorial Hall
KPM Hall of Sivasagar has witnessed many of the imporant events of Assam's history in last 75 years of it's existence.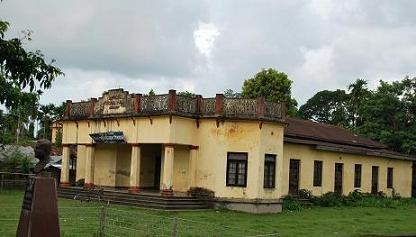 Kali Prasad Memorial Hall


Kali Prasad Memorial Hall, situated in the hert of the Sivasagar town, is becoming a historical building these days. The building carries memories of many imporant events of Sivasagar's history. The building was inaugrated by Mahatma Gandhi in 19th April, 1934 during his visit to Assam. It was then dedicated to the name of Kali Prasad Chaliha, father of lead freedom fighter from Sivasagar Bimala Prasad Chaliha (Later Chief minister of Assam). Since then it is famous as Kali Prasad Memorial Hall, KPM Hall.

Pandit Jawaharlal Nehru also visited the KPM Hall before Quit India meovement and there was a huge gathering of public there. But just after that, the second world started covering Assam's skyline and soon the building was occupied by war soldiers. In 1946 the building witnessed the forimng of "Gauhati University Trust Board" in a meeting presided by Late Gopinath Bordoloi. Sivasagar's first college "Sivasagar College" was also started in this hall by Late Padmadhar Chaliha in 1948. The college is till date serves as one of the presitgious center of education in Sivsagar, but from a different location near Joysagar. There are other numerous events that happened in this campus, but two important event to be counted are Jyoti Prasad Agarwala's speech on "Shilpir Prithivi", 1948 and starting of Sivasagar Girl's College in 1964.






This buliding currently serves as District Library and still contributing to the knowledge of the people in this region.

You can discuss more about KPM Hall in this forums.

Find more photos in the photo gallery.




Copyright © 2007-2010 onlinesivasagar.com(Abhijit Borah)