LOCATION:
Situated at Garhgaon(Gargaon) which is around 15 kms away from Sivasagar Town.


HIGHLIGHT:
Kareng Ghar is the remains of royal palace of Ahom kings when Garhgaon was their kingdom's capital.



Garhgoan was the principal seat of the Ahoms for more than four centuries. The chronicle sources refer that Suklengmung, the 15th Ahom king established the capital at Garhgoan and constructed a palace with wood and other impermanent material in the year 1540 AD. Later, king Pramatta Singha constructed a brick wall and masonry gateway in the capital complex. The present multistoried edifice was built by king Rajeswar Singha in 1752 AD. The fort and the royal complex were badly damaged and disfigured due to procurement of raw materials for building from the monument. The structural remains in the fortified complex stand as a mute testimony of the Ahom kings of the bygone days.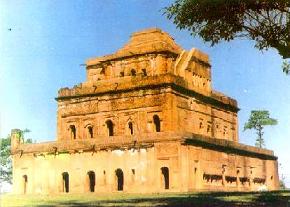 Kareng Ghar - A Retro View