Kamalabari Satra is considered as one of the most influential Satra of Assam. It has been not only the center of Vaishnavism but also cultural center of the region.


Satra(Xatra) is the most powerful and unique religious institutional trend started by Mahapurux Srimanta Sankardeva, the father of the Neo-Vaishnavite Movement in Assam. It is said that Sankaradeva established the first Satra by planting a Bilva tree and naming the place Belguri (Bilva Tree shelter) in Majuli (then known as Dhuwahat), the largest river island in the world.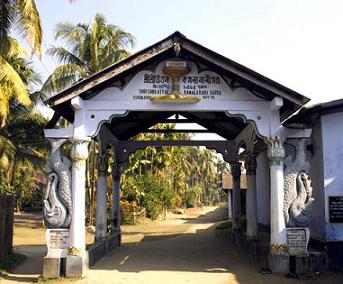 Gate of the Kamalabari Satra in Majuli


In the post Snakardeva and his most able disciple Madhavdeva period, the Neo-Vashnavite movement was continued by their disciples. Padma Ata, also known as Badala Ata, took the leadership in the eastern Assam and Majuli. Initially a swordsman in the army, he exhibited a supreme distrust in worldly affairs after witnessing the large-scale massacre of men and animals during the expedition against the Daflas, and became a disciple of Madhavadeva at Koch-Behar. In 1595 Badala Ata established a Satra in the Orange Garden of one of his disciples, Purusottama Baruah, in Majuli. The satra was named as Kamalabari, Kamala means Orange and Bari means Garden in Assamese. Ata stayed in this Satra till his death nominating his Brahman disciple Srirama as his heir of the kamalabari satra.

The Kamalabari satra has been a centre of art, cultural, literature and classical studies for centuries. Due to the damages done by flood, one branch of the Satra is recently established in the mainland Assam. But the a branch of the original Kamalabari Satra still continues from the Majuli island in the midst the river Brahmaputra.

The Kamalabari Satra has been producing great figures in Assam the cultural sector. It is the home to legendary musicians and performing artists like the Late Maniram Dutta, Muktiyar Bayan and Raseswar Saikia Barbayan, who contributed greatly towards the conferment of the Classical status upon Satriya Dance. The disciples and artists trained in the satra still performs nationally and internationally today. The satra is known for creating sculptures of mythological characters and also crafting beautiful boats.

The current Kamalabari Satra can be reached by ferry from Nimatighat port near Jorhat. The best season to visit Majuli and the Satra is in the winter (October to March). The rainy season floods the whole island damaging cultural institutions like Kamalabari Satra.





You can discuss or post any queries this forum.

Find some more pictures of Assam in this Gallery.