LOCATION:
Disangmukh is just 10 kilometers away from the Sivasagar town.


HIGHLIGHT:
Disang river is a tributary of the Mighty Brahmaputra. Disangmukh is mouth of this tributary. With a very scenic beauty of the river Brahmaputra and Disang joining together, the place is also an ultimate destination for tourists to have a close look to the Mising tribes of Assam.


BEST TIME TO VISIT:
The best time for tourists to visit Disangmukh is the winter that in October month till February. In summer, Brahmaputra may flood the region, so not advisable for tourists.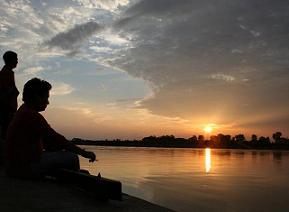 A lovely sunset at Disangmukh - Courtesy Jyotish Dutta