Best viewed @ 1024x768 resolution(IE7,FF)
Khagen Mahanta is one of the most respected name in assamese folk music and known as the "King of Bihu". His Bihu songs, Borgeet and other folk songs are ever green to the assamese society. The great artist along with his wife Archana Mahanta and son Angaraag Mahanta represent one of the most influecial family in assamese music.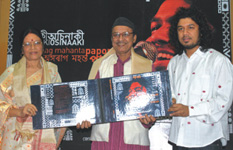 Khagen , Archana and Angaraag Mahanta (The family)


Khagen Mahanta was born in Nagaon, 1st of january, 1942. His father was Harendra Nath Mahanta and mother was Laxmipriya Devi. He showed his musical talent from his childhood. At the age of only fifteen he started perform in the music concerts in Shillong. He voice was very much accepted by the audience. In 1958, he got the opportunity to perform from Delhi doordarshan (television) center established the very year. His program was much appreciated by the viewers.

During the "Language movement" in 1960, Khagen Mahanta got actively involved into it under the leadership of great personalities like Bishnuprasad Rabha, Hemanga Biswas, Jugal Das etc. He was member of the group called "Harmony" and popularized human values with his melodious voice and compositions. In 1961 his first gramophone recorded song was broadcasted from Guwahati All india radio center. He also participated in the "World Peace" festival in Calcutta. He was recognized as A grade artist in All India Radio and contributed in almost all genres of Assamese music like Lokageet, Okoni Geet, musicals, dramas, etc.






Old Assamese song by Khagen & Archana Mahanta


Khagen Mahanta has been felicitated numerous times nationally, internationally for his contributions. Some of his awards/ recoginitions are listed below:
1988 - Film Craft Award 1992 - Sangeet Natak Academy 1994 - Shrimoy Award 1999 - Sangeetacharya

The Mahanta family's contributions towards the Assamese music world is limitless. His wife Archana Mahanta is equally known name as Khagen Mahanta in folk music. Their duets are extremely popular to the audiences. Their son Angaraag Mahanta has also created his popularity with his soozing voice and a complete genre of modern assamese music.