Rupkonwar Jyoti Prasad Agarwal(1903-1951) was one of the most influential artist of Modern Assam. His contributions ranges from Film Industry, Literary world to Musical world. He composed more than 300 songs and gave music to most of them. All these songs are very Popular in Assam till that and known as Jyoti Sangeet.
Jyoti Prasad Agarwala first used his songs in his musical plays 'Sonit Konwari' and 'Karengor Logori'. These songs gave a new direction to the Assamese music. During the Idependence movement of India in 1942 he wrote various patriotic songs. 'Kanaklata', 'Axomiya Loraar Ukti', etc. are such songs to name a few. He composed many of his songs for little children. 'Jyoti Ramayan', 'Kushour Xapun', etc. are true reflections of child psycology. But whether it is a patrotic song, or a romantic song, all the Jyoti Sangeets represent Jyoti Prasad's artistic creativity.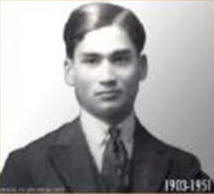 Jyoti Prasad Agarwal in his youth


Even after more than 50 of years of Jyoti Prasad Agarwala's death, the Jyoti Sangeets are very much alive in Assam. There are still thousands of music schools dedicated to Jyoti Sangeet and Rabha Sangeet in Assam. Late singer Dilip Sarma and his wife Sudakshina Sarma worked hard towards keeping Jyoti Sangeet alive in Assamese society and they were awarded with 'Sangeet Natak Academy' for their efforts for the same.

Some of the popular Jyoti Sangeet are 'Luitore Paani Jaabi o' boi', 'Amaare Xokhiyaai', 'Gase Gase Paati Dile' etc.