Best viewed @ 1024x768 resolution(IE7,FF)
Ei Jibon Nohoi Xuna Bondhu
"Ei Jibon Nohoi Xuna Bondhu" is a new Assamese album with a different touch, reflecting many faces of the society.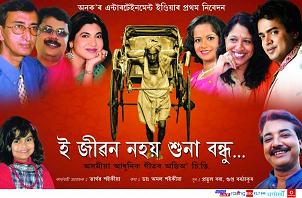 Front cover of the album


The new assamese music album 'Ei Jibon Nohoi Xuna Bondhu' was released by veteran singer, Sudakshina Sarma, in Guwahati on 5th February 2010. The music album has songs by nationally-reputed singers such as Alka Yagnik, Kavita Krishnamurti, Pulak Banerjee, Debojit Saha and child prodigy Antara Nandy. Popular actor, Pranjal Saikia, is also a part of the album as a narrator. The songs are written by Dr. Amal Saikia with music by Pratul Bora and Gupta Borthakur. Each song is theme-based and they highlight several issues which are relevant in modern-day India. 'Ei Jibon Nohoi Xuna Bondhu' has been produced by Bhargav Saikia and Dr. Amal Saikia.










Background of the album:

The find the root of the album, we need to go back to 1985, when Dr. Amal Saikia was inspired by many factors of the society during his medical internship. All his experiences and inspirations took the shape of poetry and were first sung as songs from Dibrugarh All india radio center in 1985 radio artists Mamata Borthakur and Rumi Goswami. Later in 1987, few more songs of Dr Saikia were brocasted from Biswanath Chariali radio center. Due to Dr Saikia's professional commitments, the lyrics were almost forgotten over the years but they finally got life back again with some efforts from artists Tarun Saikia from Bisswanath Chariali and few more enthusiasts.

You can provide your comments about this album in this forum.