Best viewed @ 1024x768 resolution(IE7,FF)
Bishnu Prasad Rabha was an extraordinarily talented genius ever produced by Assam in centuries. Whether it is art or music, politics or sports, Bishnu Rabha was unbeatable throughout his life! He is called the 'Kalaguru'(Teacher of Art) of Assam. He is the Leonardo da Vinci of Assam.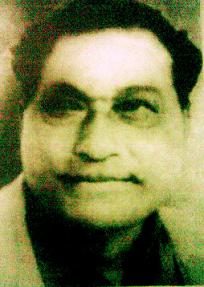 Kalaguru Bishnu Rabha


Bishnuprasad Rabha was born in Dhaka, Bangladesh on January 31, 1909. His father Gopal Chandra Rabha was in the British Police and the family was financially sound. Bishnu Rabha spent his childhood in Dhaka and started his primary education in benagali medium there. After the primary schooling his family shifted permanatly to Tezpur, Assam. Bishnu Rabha started his high school education in Tezpur Government High School. From the same school he passed out in flying colors and went to Calcutta for higher education. He completed ISC exam successfully from St. Paul's Mission College and joined prestigious Ripon college in Calcutta for Bsc.

Bishnu Rabha was influenced by Mahatma Gandhi those in 1930. He actively participated in the freedom movement and this affected his education. He wrote many slogans and hoisted Indian tricolour falgs in many government buildings in Calcutta. This forced British police to issue non-bailable warrant against him. Bishnu Rabha fled from calcutta to Tezpur and started his activities from there. He led Assam in the freedom movement and parallely expressing his in born artistic talents. He donated all his inherited 2500 bighas of land to the poor farmers.

Bishnu Rabha always worked for the upliftment of his own society. All his writings, songs, arts are just by product of that. The books wriiten by hime like His achievements like Axomiya Kristir Somu Abhax (An outline of the Assamese culture), Axomiya Kristi (The Assamese culture), and Mukti Deol (The temple of freedom) are reflections of his socialistic notions.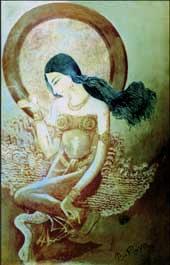 Painitng of Saraswati Devi by Bishnu Rabha
Bishnu Rabha worked towards popularizing Vaishnavism started by Srimanata Shankardev in Assam in 15th century. He learnt Borgeet, religious songs composed by Shankardev and Madhabdev, in Barpeta. Then he concentrated on perfection of borgeet. He is supposed to be the best Borgeet singer Assam ever produced. Being a follower of Srimanta Sankardeva-Madhabdeva he was the first Assamese to give shape to these immortal saints. He painted down portrainted down portraits of both of the Mahapurush with water colors. He created painting of some other god-goddesses too. His paintings were extremely beautiful and a valuable contributions to the Assamese artistic world.

Bishnuprasad Rabha was also an extremely talented actor, film director and dancer. His stage performances were absolutely stunning. He actively acted in a mobile theater group of that time called 'Ban Theater'. He also directed an assamese film 'Siraj', in which he composed the music also. He acted in the movie 'Era Baator Xur'. He was awarded the title 'Kalaguru' by Sarvapalli Radhakrishnan at Varanashi for his mesmerizing 'Tandava' dance of Lord Shiva. Even famous dancer Uday Shankara was fascinated by this dance and learnt the same from Bishnu Rabha later. Bishnu Rabha was supposed to be able to attain '64 arts' like Lord Shri Krishna!

Bishnu Rabha was a great poet too. He composed many songs which are now known as 'Rabha Sangeet'. He gave music to most of his songs too.

Bishnu Rabha passed away in 1969. He laid his life for Assam, for it's people. His contributions to the whole Assamese society will be remembered forever.

20th June of every year is celebrated as 'Bishnu Rabha Divash' in Assam commemorate this great personality of Assam.

You can discuss more about Bishnu Rabha and Assamese literature here.

You can also listen to Rabha Sangeet.