Best viewed @ 1024x768 resolution(IE7,FF)
As a talented offspring of illustrious parents in the arena of Assamese music, he is not the only one. Yet, Angaraag Mahanta, son of singers Khagen Mahanta and Archana Mahanta, has managed to create a separate identity with his debut album Jonaki Raati, which recently hit the stalls in Assam.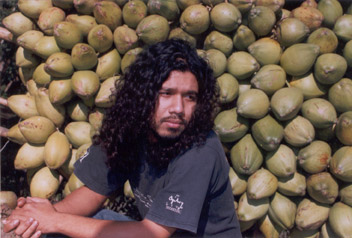 Papon
Papon(Angaraag Mahanta) singer. composer, programmer, producer-born in assam to set of brilliant musicians, was introduced to music and its intricacies in his early childhood. His mother ARCHANA MAHNATA and father KHAGEN MAHANTA are two very popular and respected musicians of the region. Naturally, music has been there in his veins, his pulse as well as his ears since he was born. BOrn in the environment of music and musical performances his initiantion into music happened at an age when most people learn to talk or walk. Inspired by the wide array of sound that he has been exposed to from the traditional Vaishnavite devotional songs of Assam to new-age electronica, Papons music is new and free. Free to be confined by any genre and new to be identified with anything that already exists. His initial training has been in Indian classical and traditional music (devotional and folk) from Assam a region in the north eastern corner of India, sharing its borders and culture with the very oriental - Bhutan, China, Myanmar and Bangladesh. Papons boundary-free renditions have definite traces of pentatonic Mongoloid notes, the soul searing lyrical river songs, the rhythmic spring songs, the spiritual devotional songs, restrained Indian classical and the smooth-as-mature-wine ghazals. His innovative experiments are rich with ambient electronica, acoustic folk, electro ghazals, new-age, Ind-classical sounds. papon had released his first album 'jonaaki raati' in assamese.- the language he was born to and is working on his hindi album. Lately he is doing vocal jams with MIdiVal punditz and with Susmit Sen of INDIAN OCEAN'. He has recently completed the back ground score for the film....

Papon has been invited to New Zealand for the Crossings festival, where some of the finest and established New Zealand jazz artists from the band Onomatopoeia will Accompaning him on his songs from his forthcoming hindi album. Also playing with him will be one of the biggest electonica musician Rhian Sheehan.

"In 'Jonaki Raati' each one of the eight numbers is fresh both in content and rendition. Angaraag seems to be completely uninfluenced by his illustrious parents. Another significant aspect of the album Jonaaki Raati is that at no moment the singer uses tricky notes or complex musical structure,which could have overpowered the touchy lyrics. Angaraag has clearly moved deeper and touched the very essence of the lyrics.This undoubtedly is a rare piece in the contemporary Assamese modern song scenario. Angaraag indeed has a long musical sojourn to undertake. All he needs is to maintain his own concept and style of rendition....."..The Telegraph.




Angaraag Mahanta's Junaki Raati


Currently Anagraag has started a new band named "East India Company" along eight other talented musicians around various corners of India. The band is concentrating on a new blend of traditional and folk music, which is already able make a mark to the audiences across the world.

Check this official websites of Angaraag mahanta:
www.eastindiacompanytheband.com
www.papon.co.in


OTHER LINKS ON PAPON
»»Zubeen and Papon are featured in the same bollywood big release
»Papon - The Story So Far



You can discuss more about Papon and his music in this forum.

You can also listen to Papon's Songs.