"A maestro made his motherland proud by creating real life into the reels life with a flavor of truthfulness and simplicity. Penned down the stories by himself, every film made by him was a masterpiece. They not only stunned everyone in the country but also critics across the globe were amazed. The unique, true representation of the social life of the region in his original way will be remembered and put as an epitome of film excellency."


We are talking about none other than Dr Bhabendranath Saikia. This great Filmmaker and his works have relived by Journalist Anupam Hazarika and "Poohar Media" once again. Mr Hazarika with the help of his cultural media organization "Poohar Media" has put commendable efforts to bring five evergreen classics of Late Saikia together in a single pack. Their dream has finally come true by the end of 2010. On 22nd December, the media organization launched the DVD collection "RETROSPECTIVE OF DR BHABENDRANATH SAIKIA" in Guwahati press club.

It was really unfortunate that the masterpieces of the legend are becoming rare to find for the common people. People had to wait for any Television broadcast or similar media to watch the movies. The current effort of Poohar Media is very much appreciable as this golden DVD collection will allow the fans, young generation including the students of film industry to watch these movies at will.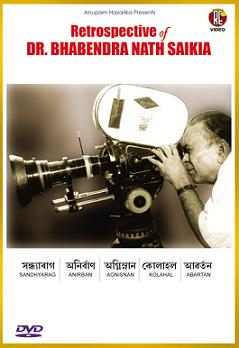 The Front Cover of RETROSPECTIVE OF DR BHABENDRANATH SAIKIA


The DVD launch was atteneded by veterans of Assamese Film world like Biju Phukan, Mridula Baruah, Runu Devi Thakur, Chetana Das, etc. Dr Saikia's wife Preeti Saikia also accompanied the artists. Mrs Saikia praised Anupam Hazarika and his team for the this noble effort. "It's unfortunate that Dr. Bhabendraanth Saikia is not among us today, but he must have been touched by this launch," said Mrs Saikia with an emotional voice.

It's really difficult to judge which are the best five films of Dr Bhabendrnath Saikia as each one is unique in its creation. But Anupam Hazarika has taken a brave decision to pick five among the best. The DVD collection contains "Xandhyarag(Sandhyarag)", "Anirban", "Agnisnan", "Kolahal" and "Awartan". All of these movies were awarded "Rajat Kamal" of the Government India. They were also screened at National and International Level Film Festival like Cannes, Hyderabad, new Delhi, Montreal, Toronto etc. Viewers across the globe always appreciated the movies of Dr Saikia.

This valuable DVD Collection "RETROSPECTIVE OF DR BHABENDRANATH SAIKIA" will not be available in the open market though. This is to give respect to the valuable creations of the Late maestro and make sure that only the true and sensible fans of Saikia get hold of the movie collection. The DVD pack can be be availed by contacting Poohar media at +91-9864065884 or sending a request to pooharmedia@rediffmail.com only. The Media group is planning to avail the DVD pack in the "Guwahati Book Fair" and also in the Moving Book Fair "Xatirtha" across Assam.



Films in the DVD Pack

Sandhyarag - Rajat kamal 1978

Anirban - Rajat kamal 1981

Agnisnan - Rajat kamal 1985

Kolahal - Rajat kamal 1988

Abartan - Rajat kamal 1994



Thanks to Anupam Hazarika for giving the opprtunity to taste Saikia's movies. Hazarika has also planned to donate a part of the profit to two dream projects of Bhabendranath Saikia "Aarohan" and "Xophura". We wish a great success of the venture.

Complete biography of Dr Bhabendranath Saikia.

You can discuss or post any queries this forum.

Find some more pictures of Assam in this Gallery.



To publish anything related to Assam and Assamese, please drop a mail to admin@onlinesivasagar.com or onlinesivasagar@gmail.com with all the details