Best viewed @ 1024x768 resolution(IE7,FF)
Nipon Goswami is not just a name to an actor, it actually represents an era in Assamese cinema world, Jollywood. Whatever may be the role, from romantic hero to villain and from child role to old grand father, every possible character is fantastically potrayed by this veteran actor.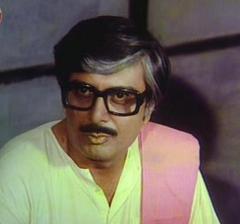 Nipon Goswami in 'Ajolee Nabow(1979)'


Nipon Goswami was born in tezpur which is one of cultural hub of Assam and has produced personalities like Rupkonwar Jyotiprasad Agarwala.

Nipon Goswami's first movie was 'Piyali Phukan' directed by Phani Sarma in 1957. He played a role of a child actor in that movie. The debut film as a lead actor was 'Sangram'. This movie was a hit in Assam. The next movie which made him super star was Dr. Bezbaruah released in 1969. Since then he has been acting in numerous assamese movies in various roles. Some other movies in which he acted are 'Mukuta', 'Maanab Aru Daanab', 'Morisika', 'Abhijaan', 'Santaan', 'Aashray', 'Meghamukti', 'Aajoli Nobou', 'Man aru Maram', 'Aparupa', 'Ghar Sansar','Kakadeuta Naati Aru Haati', 'Nayanmani', 'Jiban Surabhi', 'Shakuntala Aru Sankar Joseph Ali', 'Aarati', 'Pratidaan', 'Siraaj', 'Aai Mor Janame Janame', 'Deutar Biya', 'Baibhav', 'Jon Jale Kapalat', 'Prem Aru Prem', 'Kakadeutar Ghar Jowai', 'Kadambari', etc.

Nipon Goswami has been also actively involved in mobile theaters like Abaahan, Kohinoor, Hengul, Shakuntala, etc. He also appeared in few small screen TV serials like 'Writu aahe writu jaai' etc.

Nipon goswami has the record of acting in most number of Assamese films , more than 85 and still counting. He also appeared in more than 50 short films, telefilms etc. There are few hindi movies where Goswami played a role. 'Kalasandhya(1997)' by Bhabendrnath Saikia, 'Daman(2002)' by Kalpana Lajmi are two of the Hindi movies he acted.

The speciality of Nipon Goswami is that he plays any role perfectly. Till date he is as much popular as his young days when he used to act as romantic hero vs old man in recent days. He has been awarded with many honors during his span of 50 years of flawless acting.

You can discuss more about Nippon Goswami and Assamese movies in this forum.