Best viewed @ 1024x768 resolution(IE7,FF)
The Assamese filmmaker Jahnu Barua's films are known for their social themes, which address the contemporary culture and politics of Assam, deploying an almost expressionistic approach to regional reformism.
"I am basically a shy person and prefer to stay away from the media limelight" - Jahnu Barua.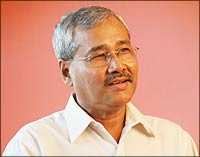 Jahnu Barua


Jahnu Barua was born in Bakata,Sibsagar, to a big family. He was brought up by his father Debeswar Barua and Mother Gunabati Barua along with his seven brothers and three sisters.He did his B. Sc. from B. Barooah College, Guwahati. A film festival organized by the Guwahati Cine Club brought him face to face with the likes of Satyajit Ray and it left him a great impression. Thereafter he left for Pune to do a diploma in film direction in FDI.

Jahnu Barua started his career as an Assistant Director to Aruna-Vikas in Mumbai for the film SHAQUE. Later he worked as a television producer in Indian Space Research Organisation (ISRO) under Satellite Instructional Television Experiment (SITE) scheme and made several educational television science programmes for rural school children.

Jahnu Barua produced and directed many short films before stepping into making feature films. Committed to social cause, Jahnu Barua has so far made 10 feature films. His films carry strong human messages based on universal themes. All his films have been nationally and internationally acclaimed.

Nine times National Award winner Jahnu Barua got major national as well as international recognition through his third film HALODHIA CHARAYE BAODHAN KHAI (The Catastrophe) that won the National Award for the Best Film (Golden Lotus) in 1988 and several international recognitions including the Grand Prix Silver Leopard and World Ecumenical Award at the Locarno International Film Festival, Best Film at Amien International Film Festival, and Best of Asia at the Tokyo International Film Festival.

Another notable film of his is HKHAGOROLOI BOHUDOOR (Itís a Long Way to the Sea) that has won the National Award for the Best Director (Golden Lotus) in 1995, and 15 international awards including World Peace Prize at Chicago International Film Festival, and Best Director at the International Film Festival of Independent Film Makers at Brussels, apart from being invited to as many as 42 prestigious film festivals world wide in a span of two years.

One of his later films MAINE GANDHI KO NAHI MARA (I did not kill Gandhi) in Hindi is one of the most critically acclaimed films. The film also won the prestigious KODAK VISION AWARD.

Apart from film making Jahnu Barua is actively involved in many organizations dealing with youth, women and children, film society movement, social awareness programmes, physically handicapped children, juvenile children, environment and art and culture.

Jahnu Barua has been conferred PADMA SHRI by the President of India in 2003, and Kamal Kumari National Award for Culture in 2004.

He is married to Gayatri, who is a filmmaker and also his inspiration, the couple has a son named Oju.Jahnu Barua who shuttles between Mumbai and Guwahati loves to spend time with his son.






A song from Jahnu Barua's award winning film Aparoopa
Filmography

Baandhon (2012) - writer, director
Maine Gandhi Ko Nahin Mara (2005) - director
Tora (2003) - director
Konikar Ramdhenu (2002) - director
Kuhkhal (1998) - director
Hkhagoroloi Bohu Door (1995) - writer,director,producer
Firingoti (1992) - director
Banani (1990) - director
Adhikar (1988) - director
Halodhia Choraye Baodhan Khai (1987) - director
Papori (1986) - writer,director
Aparupa (1982) - director,writer
One Hundred and Eighty Days of SITE (1976) - director
Diary of a Racehorse (1974) - director
The F Cycle (1974) - director

You can discuss more about Aideu Handique here.