Best viewed @ 1024x768 resolution(IE7,FF)
Aideu Handique, a name, a legend, assamese society cann't forget. A life of struggle but pride to the whole assamese film industry...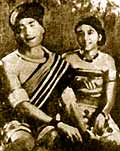 A still from Joymoti


Aideu Handique was born in 1920 in Pani Dihingiya, Golaghat. Her father was Nilambar Handique and mother Maa-Laxmi. She was a simple enthusiatic village girl with dreams in her eyes. When she was barely 15 years, one of her cousin abducted her to the sets of first Assamese movie "Joymoti".

The father of Assamese film industry, Jyotiprasad Agarwala was looking for an actress as the lead role of his movie. The movie was based on one of the most tragic sacrifice of a woman in Assam's history, Queen "Joymoti".

Innocent Aideu was lied by her cousin to show a house that sails on water. It was nothing but a ship and she was almost forcefully taken to the movie sets. Though she was partly compelled act in the film, yet she made history and her will be written in golden letters forever.

The whole shooting of the movie took around a month and Jyoti prasad taught her acting, behaviour of an Ahom princess.

But Aideu Handique's tragedy started when she returned home. The orthodox society of those days didn't accept her family in the village. Also because she said "Bongohordeu" (husband) to the co-actor in the movie, none came forward to marry her. She remained unmarried for her whole life. "Joymoti" remained the only movie in which she acted. Most tragically, she never got a chance to watch her own movie till 1985 when government presented her a cassette of the remains of the movie as a part of the golden jubilee celebration of assamese cinema.

Aideu Handique got a few recognitions in her last days of her life. She deceased on Decenber, 2002. She is no more, but her brave act and sacrifice will always be remembered.






| | |
| --- | --- |
| Clip from the movie Joymoti | Aideu Handique |


You can discuss more about Aideu Handique here.