2011 is an encouraging year from Assamese Box office perspective with two hits, Ramdhenu and Janmoni. Apart from these hits, the industry promises to treat the Assamese viewers with new tastes. 'A Weekend' is such a movie which can be expected to be contemporary Assamese movie with new and modern concept.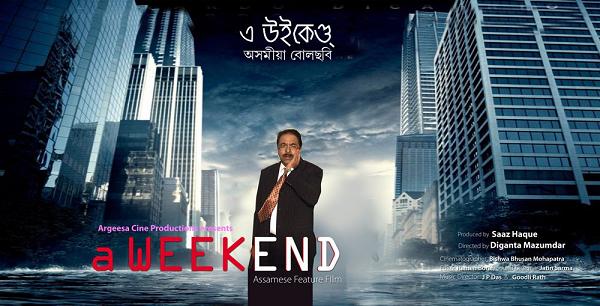 A Weekend - The Movie Banner


The movie 'A Weekend' is made under the banner of Argeesa Cine Productions' India. The production company is affiliated from an Australian film production company 'Argeesa Cine Productions', Melbourne.

The Argeesa Production is founded by Saaz Haque, an NRI. Lawayer by profession in Australia for more than two decades now, Mr Haque, was grown up in Guwahati, Assam. He is a concept creator, story developer and producer of the movie "A Weekend". This movie fulfills his dream and passion of making an Assamese movie and also to do something for the industry. This is his first effort, but he brings in his experiences and talent from a foreign land into the movie. Saaz is trying to gif the people of Assam with realisitc, meaningful and technically strong film.

'A Weekend'- a modern fast paced urban thriller with a back drop on down trend on stock market investment and its effect on a business man's life involving relationship with his own people. 'Money Rules Relationship' or 'Relationship Rules Money', the apparent simple and common notion involving human lives could appear to be difficult at times. The movie starts on a Friday evening and the story covers only two days of the protagonists, Saturday and Sunday. Hence it is named "a Weekend"!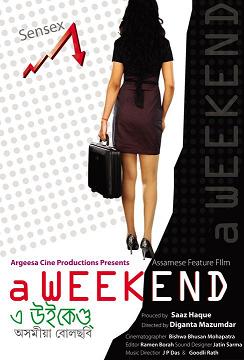 A Weekend - The New Assamese Film


The movie is directed by Diganta Mazumdar, who is going to be complete his silver jubilee in the Assamese film industry. Mazumdar has been working as assistant director in various commercially successful and award winning Assames movies like "Hiya Diya Niya", "Raag Biraag", "Adajhya" "Holodhar", etc. Bishamohan Mahapatra has worked as the Director of Photography of the movie. He brings in experiences of national level director like Maniratnam whom he asssisted in many occassions. The international level sound editor Jatin Sharma has also brought the modern sound technologies into the movie.

The starcast of the movie includes veteran actors like Jayanta Bhagawati,Debojit Mazumdar,Madhusmita Saikia, Hiranya Deka,Diganta Hazarika, Padmorag Goswami, etc. Two leading roles of the movie are performed by debutant actors Akid Zaman and Pakiza Haque. One item song of the movie is performed by "Dance India Dance" finalists Jaya Biswas and Biswarup Mishra.






'A Weekend' - Movie Promo


Undoubtedly "A Weekend" is a movie with a modern touch and technology. The movie is scheduled to be released by September 16, 2011 and promises to give viewers a contemporary suspense/thriller experience. The movie will be released across all major cinema halls of Assam with English subtitle for the first time. The DVD format of the movie will also have surround sound.

It will interesting to see whether the movie will break a new trend and carry more good news into the poor Assamese movie industry.

You can discuss or post any queries this forum.

Find some more pictures of Assam in this Gallery.



To publish anything related to Assam and Assamese, please drop a mail to admin@onlinesivasagar.com or onlinesivasagar@gmail.com with all the details