Assamese Weekly
Asam Bani(Axom Bani)

Editor: Shri Dilip Chandan
Publisher : Tribune Group, Guwahati
Description :
Asam Bani is the oldest weekly Assamese newspaper published from the powerful and popular Tribune Group. It has been serving Assam for more than five decades. There are many big names of the Assamese Journalism world are related to this newspaper. One of them is Nirod Choudhury who actively contributed to the newspaper in 1960s. His articles in page three on personalities and life incidents and also in cinema page increased the popularity of the newspaper. Choudhury himself became the Editor of the newspaper in 1991.
Website : N/A
Sadin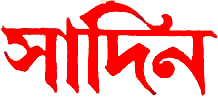 Chief Editor: Shri Tilak Hazarika
Editor: Anuradha Sharmapujari
Publisher : Asomiya Pratidin Publication, Guwahati
Description :
Sadin is a popular weekly assamese newspaper published from Asomiya Pratidin Publication established in 1994. It is one of the pioneer weekly newspaper available online.
Pragjyotish

Editor-in-Chief: Shri Dhirendra Nath Chakravarty
Editor: Sachiprabha Das
Publisher : Pragjyotish Prakashan Trust, Guwahati
Publisher : Pragjyotish Prakashan Trust, Guwahati
Office : Nandanpur, Shiv Mandir Path, House No 2, Near Zoo, Guwahati -5
Pragjotish is published every Wednesday from Guwahati. This assamese weekly started publication from 2009.
You can also discuss or query on Assamese newspaper and literature in this forum.