Best viewed @ 1024x768 resolution(IE7,FF)
Gunabhiram Barua was a highly educated pioneer of modern Assamese literature. He is father of Assam Historian and Biographer world. He stood as an inspiration for many in 19th century in Assamese society.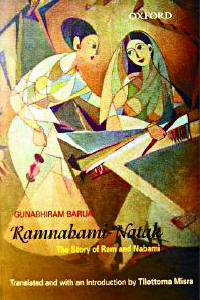 "Ram Navamir Naat"





Gunabhiram Barua was born in 1837 and got well education under the efforts of Anandaram Dhekial Phukan. He completed his college education from Calcutta's Presidency College and joined government job in 1860. He serviced as an assistant commissioner under the British Government for thirty long years. In Calcutta, he came in touch with great social reformers of those days like Ishwarchandra Bidyasagar and also influenced by 'Brahmo Samaj'.

In 1857 Gnabhiram Barua published his first play 'Ram-Navamir Naat'. This play portrays the burning topics of Widow-remarriage in 19th century and it was described critically through the debates of the protagonist Ram and his widow lover Navami. Barua also created a character on Ishwarchandra Bidyasagar in different manner. Though the play showed Ram and Navami bravely going against the society by marrying each other, but it finally ends with tragedy as both of them commited suicide. This play added lots of fuel to the widow-remaariage movement and it was legalized in 1858 by British Government. 'Ram-Navamir Naat' was the first modern play written reflecting social issues.

Gunabhiram's efforts towards social reformations were not only reflected in his writings, but also in his real life. After his first wife's death, he married a Brahmin widow which was a big blow to the orthodox high class Assamese society. Aprt from 'Ram-Nvamir Naat', he wrote another play 'Bibah-Rahasya' which was published in 'Assam-Bandhu' in 1886. Probably this play was never completed, but the few parts of it published in 'Assam-Bandhu' depicts the affects of opium addiction and dark reality of the society.

Gunabhiram Barua was more historian and biographer than a mere writer. He wrote a complete biography of Anandaram Dhekial Phukan in 1880. He was also influnced by a history book on Assam by Anandaram's fath Haliram, and wrote a complete history book of Assam, 'Assam Buronji'(1884). There were many articles related to Assam's history were published in 'Assam-bandhu' and 'Junaki'. There are some humorous writings of Barua which were published in 'Bijuli' as 'Kathin Xobdor rahasya bakhya'.





Gunabhiram Barua's magazine 'Assam-Bandhu' was popular in the youths and created a path to the literary world in the society. His wife Bishnupriya and daughter Swarnalata were also influenced by his ideologies. His dughter was educated in Calcutta and contributed to 'Loraar-bandhu' magazine. His wife also wrote a book 'Niti Kotha' in 1884. He also inspired his two sons Karunabhiram who was the editor of 'Loraar-Bandhu' magazine in 1888 and Jnanadabhiram Barua.

He died in 1894.

You can discuss more about Gunabhiram Barua and Assamese literature here.