Best viewed @ 1024x768 resolution
Atmanuxandhan - Autobiography by Homen Borgohain
"Homen Borgohain's autobiography Atmanuxandhan is considered to be his one of the most valuable contributions to the Assamese literature."
| | |
| --- | --- |
| The book's front cover | |

Homen Borgohain is one of the greatest author of Assamese literature and is a living legend. He is also known as a brave and honest journalist and has various influences in the literary and journalism world of Assam. Born in a small village of Assam, his life is full of ups and downs and surprises. He wrote down the story of his own life in his autobiogrpahy "Atmanuxandhan" (Atmanusandhan), in '80s decade. The was one of the most and read and discussed Assamese book of that era.

The word "Atmanuxandhan" means self-experiment. Borgohain experimented his life various ways and he truthfully expressed the consequences to the readers. Atmanuxandhan is not a main stream autobigraphy, this is an unique effort from author which is a rare literary work not only in Assamese literaure, but also in whole Indian literature. Apart from his life story, the book includes various short stories, articles and poems of Borgohain, that reflects his life.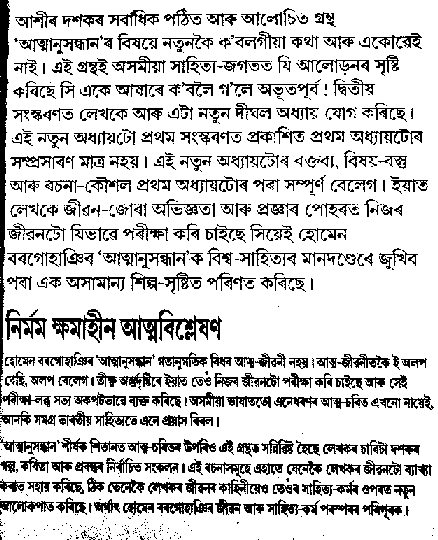 The book's back cover






You can discuss more about Homen Borgohain in this forums.






Copyright © 2007-2010 onlinesivasagar.com(Abhijit Borah)