Krishna Kanta Handique is considered to be as a great literate in the eastern world for his works.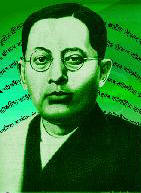 Krishna Kanta Handique






Krishna Kanta Handique(1898-1982) is one of the most respected names in the literature world from Assam. His books on 'Noishadh-Charit' of Shri Harsha, 'Yashastilak' of SomDeva and Jain thoughts in tenth century India in english made him one of the best literate in Eastern world. Though he didn't write a single book in Assamese, there sre some valuable articles published in the language. Most of those articles were published in 'Baahi', 'Chetana', 'Awahon', etc. These articles were related to western languages and literature. He studied various western languages and left various priceless writings related to them. He is definitely one of the pioneer who has shown the gate to world literature to Assamese readers. He was the first vice chancellor of Guwahati University.

You can discuss more about Krishna Kanta Handique and Assamese literature here.