Best viewed @ 1024x768 resolution
Kati bihu is the only bihu which keep itself aside from colorful joy of life but more into bitter reality of a cultivator. It has got more importance to religious values than other two Bihu.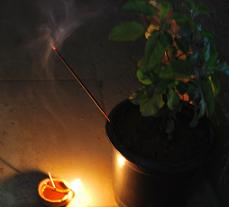 Worshiping Tulsi Plant on Kati Bihu


Like the other two Bihu, Kati Bihu is also closely related to agriculture. This Bihu is celebrated on the first day 'Kati' month in Assamese calendar. This is the period of time in the year when the paddy grows in the fields and cultivators work hard and eagerly wait for a good harvest. This period also witness emptiness in the granaries of the hard working cultivators. This is the reason why this Bihu is also called Kongali Bihu, 'Kongal' stands for 'Poor'.

This Bihu is celebrated in teh evening time by lighting lamps or candles, Saaki, in various places. These saaki arfe lit up from house to paddy fields. In households the saaki is lit up in front of Tulsi plant. The Tulsi plant not only carries medicinal values, but also it is supposed to be very auspicious in Hinduism.The Tulsi plant is cleaned and planted on a specially designed earth platform called 'Tulsi Bheti'. Its is worshiped with various prayers and prasads are distributed among families, houses.

In paddy fields, there is a special type of lamp lit up which is called 'Akaxh Banti'(Sky candle). These lamps are lit up high on the tips of tall bamboo. The cultivators pray for the good health of their crops. Scientifically these lamps used to attract insects of the paddy fields and they fall prey into the fire of these lamps. This helps the crops to be healthy and free from insects.






Copyright © 2007-2008 onlinesivasagar.com(Abhijit Borah)