Best viewed @ 1024x768 resolution
Gamosa (Gamocha/ Gamusa) is a unique identity of Assamese Society. This small piece of cloth has high esteem and wide usage in Assamese culture. Gamosa is one unique cloth article in it's usage and looks, nowhere in the rest of India something like 'Gamosa' is found. Gamosa is also known as 'Bihuwaan', as it is an essential part of Bihu festival of Assam.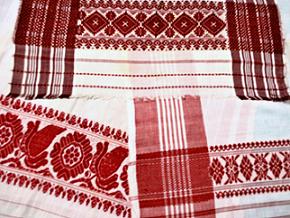 Gamosa - Beautifully Woven Motifs


'Ga' means 'body' and 'mosa' means 'wipe' in Assamese. So 'Gamosa' is equivalent to 'towel' by meaning, but it means a lote more than that in the Assamese society.


Origin:
The origin of Gamosa is still vague to the historians. It's not known whether it was originated in Assam or came from far east like Thailand, where small clothes like Gamosa are in use. It's for sure that Gamosa didn't come from other parts of India as there is no such article used anywhere else in India. So, it can be assumed that Gamosa is a great innovation of Assamese weaver.

There are few references of Gamosa in history of Assam. Historian Dr. Leela Gogoi mentioned the usage of Gamosa during Ahom days. There is also a reference of Gamosa from the days of Srimanta Sankardeva. "Sankardeva's disciple Srimanta Madhavdeva got the news of sad demise of Sankardeva when his son Ramananda Thankur came running wearing a Gamosa in his head." Edward Gaite's 'A History Assam' also mentions about Gamosa. According to this book in 1739 a Gamosa cost 6 paise.


Design:
Gamosa is of rectangular shape, around 2 feet in width and 4 feet in height, closer to the shape of a towel. It's white in colour with red borders. One or two borders on the width, are woven with very artistic embroidery. The raw materialused for weaving Gamosa is cotton. But some gamosa used in special occassions are made of Silk too. Though it's pretty simple, weavers show their artistic talents in the motifs of a gamosa.









Video on Gamosa - Courtesy Tezpur University Mass Comm Dept
Usage:
The usage of Gamosa is wide spread. From very ordinary household jobs to high esteem jobs, Gamosa performs all of them very well. In ordinary tasks it's used as a bath towel, a head wrapper, easy to use dhoti and so on. The list of special usages of gamosa is longer.
Gamosa is the symbol of showing respect to elder ones in Assam. It's gifted to the elder one in any special occassions as a token of respect.
Gamosa is part and parcel of the most celebrated festival Bihu of Assam. It is also known as Bihuwaan. Bihuwaan is gifted to the family members in Bihu. Bihu dancers also wear gamosa on the waist or on the head(male dancers).
Gamosa is used in any religious activities in Assam. The 'Monikut' of Namghar is usually covered with Gamosa. Gamosa, Xorai, Tamul(Betel Nut ), Paan(Betel) are essential articles of assamese religious occassions.

Assamese society can't be imagined without Gamosa. The most ineterestingly it's not losing it's popularity and importance with time unlike other traditional elements of Assamese society. It has found it's way from Hand weaving to the machines and also increasing business prospects. It has also found a place in the modern fashion world.






Copyright © 2007-2008 onlinesivasagar.com(Abhijit Borah)