Established : 1841

Range : From Class V to class XII

Type : Only boys till class X and co-ed for XI and XII

No. of Students : ~ 1500

No. of Teaching Staff : ~ 70

Medium : Assamese

Sivasagar Govt School

Sivasagar Govt School carries a long history of more than 170 years. The school was established in 1841 under British rule. It was the second high school found in Assam after Collegiate school in Guwahati (1835). It was named as "Sivasagar English School" at first. The medium of teching was English. M.D. Suja was the first Head Master of the school. He was accompanied by Ramsagar and Ubidhar Sarma. Slowly this school became the center of education in the upper Assam region.Students from various corners of Assam came to Sibsagar to study here. The school produced many of the Assamese legends of both 19th and 20th century Assam. Lakhshminath Bezbaurah, Hemchandra Baruah, Moidul Islam Borah, Jatindranath Duwarah, Padmanath Gohain Baruah, Benudhar Sarma, Maheswar Neog, Dimbeswar Neog, Leela Gogoi, Padmadhar Chaliha, Parag Chaliha are a few to name among many.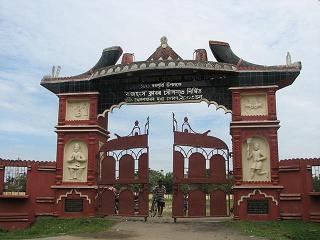 Boarding Field


Apart form education Sivasagar Govt school also became the center of Assamese culture. The first conference of "Asom Sahitya Sabha" was organized by Padmanath Gohain Baruah in 1917 in the School campus only. A statue of Padmanath Gohain Baruah was built in 1971 in the memory of the legend in the school campus. The school ground, popularly known as Boarding Field is a huge ground and center of sports activities in Sivasagar.

Though the school was started with the name Sivasagar English school in English medium, later it was converted to Assamese medium and renamed as Sivasagar Government Higher Secondary and Multi Purpose School. The school is still having it's old respect and still producing talents across Assam's literature, politics, art, sports , almost in every field of the society. The school is gifted with really experienced faculty and is still performing good results in Matriculation and also Higher Secondary Exams. It offers courses in Arts, Science, Commerce and also Vocational Training for class xi and xii. The school is currenlty equiped with modern amenities like computers, etc. There is a Polytechnical Institute in the same campus also.

You can discuss or post any queries this forum.

Find some more pictures of Sivasagar in this Gallery.